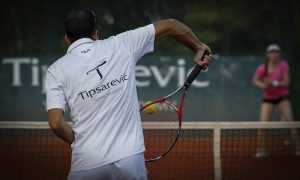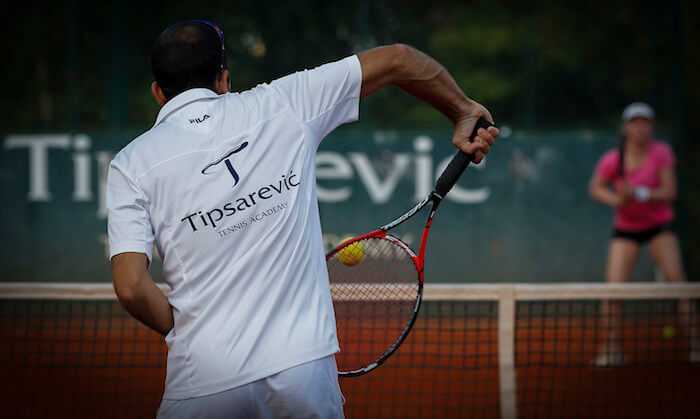 Tipsarevic Tennis Academy was founded in May 2013 with its training facilities located in Belgrade. Since then it has become one of the top tennis academies in Serbia and in the region. The primary goal of Janko Tipsarevic, as the founder of Tipsarevic Academy and one of the best tennis players in the world, has been to promote tennis in Serbia and to pass his experience gained throughout his impressive tennis career.
Tipsarevic Tennis Academy
one of few tennis academies in the world which have facilities in two different locations. The first location, newly-decorated tennis complex has outdoor tennis courts with all supporting facilities, including restaurant the 'Tipsy Time'. Located at the sport center '11. April', in peaceful surrounding provides a great place for developing tennis skills. The second location – "Tipsarevic Usce" contain three additional courts, with long tennis tradition and great environment for developing young players. During the winter time, all courts are covered so players can use its full capacity.
Competitive program and experienced staff will help young players to improve technically, mentally and physically. Whether you want to advance your mental toughness, footwork, serves or physical endurance, we can create program for you.
If you love tennis, if you want to make the first tennis steps or if you just want to become a champion, come and join our team.
About Janko Tipsarevic
Janko Tipsarević (born 22 June 1984) is a Serbian professional tennis player. His career-high singles ranking is world No. 8, achieved on 2 April 2012. In his career, he has won four ATP World Tour titles, one ATP doubles title, three Futures, and 15 Challenger titles. Tipsarević also won the 2001 Australian Open Junior title. Tipsarević has achieved two victories over a World No. 1 player, having defeated compatriot Novak Djokovic twice. He also has thirteen victories against other players in the top 10: four wins against Tomáas Berdych, and one each against Fernando Gonzalez, Mikhail Youzhny, David Ferrer, James Blake, Gael Monfils, Andy Murray and Juan Mónaco. He holds victories over former World No. 1 players Carlos Moya, Marat Safin, Lleyton Hewitt, Juan Carlos Ferrero and Andy Roddick. His best results at a Grand Slam have been reaching the quarterfinals at the US Open in 2011 and 2012. He is only the second Serb to reach the final 16 at all four different grand slams.
https://www.tipsarevictennisacademy.com/
+381 (11) 7357679