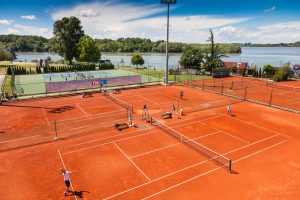 Novak Tennis Center Ex Novak Djokovic Tennis Academy is a training center that offers programs for all ages and levels. No matter what your age or skill level is, at our center you'll find a program that works for your needs and development goals. Built on the vision of Novak Djokovic. Goal is to focus on long term development that enhances natural potential. Gives each player the chance to play at his or her highest level.
Novak Djokovic Tennis Academy
A maximum of 24 full-time participants are accepted each year, ensuring a small program of exceptional quality that responds to each player's individual needs and aptitude. Week long focus programs are available throughout the year for those players wishing to benefit from the coaches advice and concentrate on specific skill sets.
There are 14 tennis courts within the Tennis Center. We have 11 courts with a premium clay and 3 hard courts. Our courts are identical to the courts in Rome and Monte Carlo.
During the summer season Serbia Tennis team is working at Novak Djokovic tennis facillities. Also we provide our programs (Semi-Intensive Program, Intensive Program, Individual Program, Camps) on the courts of Novak Tennis Center.
Novak Djokovic Tennis Academy is located in Belgrade, Serbia, renowned for its beautiful natural setting and mild climate. with cultural attractions and international airports within close driving distance. The center is a vantage point from which to explore the vibrant Serbian culture and history.
Come visit us and discover our magnificent high performance facilities and the best team of highly qualified professionals with a lot of life experience gained on and off the court over the world.
Novak Djokovic's quote
Each and every one of us has a unique personality. Consisting of all the little things that empower us, inspire and keep us going throughout the days and years. I am no exception. Welcome to the part of my webpage where I will share with you all the things I am passionate about. Here, you will get to know every aspect of me – up close and personal.
– Novak Djokovic is a Serbian professional tennis player, he is one of the greatest tennis players of all time.
---
Best Tennis Academies | Annabel Croft Tennis Academy | Bollettieri Tennis Academy | Evert Tennis Academy | Tipsarevic Tennis Academy | Bruguera Tennis Academy | ACE Tennis Academy | Barcelona Tennis Academy | Mouratoglou Tennis Academy | Good to Great Tennis Academy |